We Millennials would go nuts for anything that reminds us of the 90's. And Levar Burton knows it.
Let's face it:  things were simpler before Y2K. But I don't think that our obsession with 90's pop culture stems only from woe and longing to return to a comfortable time which existed once upon a time. No, our nostalgia is much more than that.
Millennials have created a culture in which everything is publicly documented. Every little thing we do is something that is sharable. The 90's represent the beginning of all that.
When we share things online, we share them not only with our current friends, but with our future friends — our great-grandchildren. We're finally immortal. Many of our grandparents died without ever leaving a footprint in the sand of human history. But we're different. We want to be a part of everything.
We want our faces and names in the comments section of every revolution so we can point to them in eighty years and say, "Your great-grandpa was a feminist! See this hashtag?" We want to leave a lasting impression. And we can, because almost every aspect of our culture is now interactive.
That's why this is the most exciting time for the entertainment industry. This attitude is becoming an integral part of the way we develop media.
There's a reason the campaign to revive Reading Rainbow was able to raise almost four times its original goal. (Hint: It's got nothing to do with how much we like to read books).
It's because we have a say here. I've heard so many complaints from my peers who lament over the quality of children's TV today. TV is fine today. They just miss THEIR shows. And now that they're having kids of their own, they want to share those parts of their childhood with their children.
Just in this past week, three media giants have announced the revivals of Danger Mouse, Magic School Bus and Powerpuff Girls. The Lion King is also getting its own new spin-off series on the Disney Channel. And as many anticipate the upcoming release of Paramount's Teenage  Mutant Ninja Turtles in August, there's a clear pattern developing here.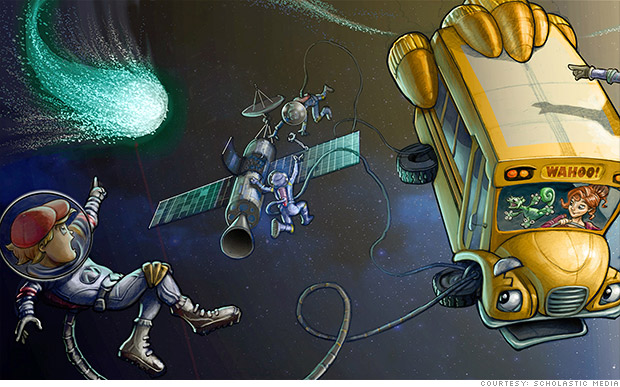 In recent years, we've seen reboots of The Electric Company on PBS, Boy Meets World on Disney, the Teenage Mutant Ninja Turtles TV show on Nick, and Teen Titans on Cartoon Network.
It's no surprise that these classic shows can run successfully decades after their original series went off the air.
Some might be quick to judge these media execs, claiming that they're reluctant to try new material and are relying on faithful crutches.
It might be appropriate to add here that every one of the top 10 highest grossing films of 2013 were sequels or adaptations of existing material. Gravity was the only completely original story. I'll be honest, that does scare me a little. We seem to keep going with what works. And I'm not just talking about the ridiculous number of Shrek movies that we've had to sit through. Monsters vs. Aliens, Madagascar, Kung Fu Panda, and How to Train Your Dragon all got their spin-off shows on cable almost immediately after their theater debuts. Turbo and The Croods are also both becoming Netfilx series.
Of course, there's also the merchandise question. It's a safe bet that you'll always sell more Powerpuff Girls merchandise than, say, Johnny Test merchandise. Why target one generation when you can target two? The parents are, after all, the ones who buy the darn toys.
So maybe this is a win-win situation. These are beloved titles with promising potential for the future. They are also bound to bring in truckloads of profit for media distributors from young Millennial parents.
This might sound like we're  "beating a dead horse". I'd say it's more like we're reviving the dead. It could be a zombie apocalypse. Except, these zombies are cuddly and funny and awesome at reading.
Hopefully, these zombies will bring just as much joy to the next generation as they brought ours.